Romantic & Industrial Wedding Inspiration Featured by Storyboard Wedding
When it comes to weddings I adore getting the opportunity to work with a couple to design all of the details for their celebration! I love capturing a couples personalities and bringing their details to life by incorporating the things that matter most to them. With that being said, it can be challenging if you're working with a bride or groom who has a complete opposite set of tastes than you. After all, you want their style to shine through. I wanted to challenge myself by creating a design that combined two opposite ends of the spectrum: elegance in an abandoned industrial setting. Storyboard Weddings featured a lovely gallery of images from this shoot and included a beautifully written article on it which I've included below. Thank you to Storyboard Weddings and the team of Toledo, Ohio wedding professionals who helped to create this Industrial Wedding in the downtown warehouse district!
Click the link above for the full feature on StoryBoard Weddings!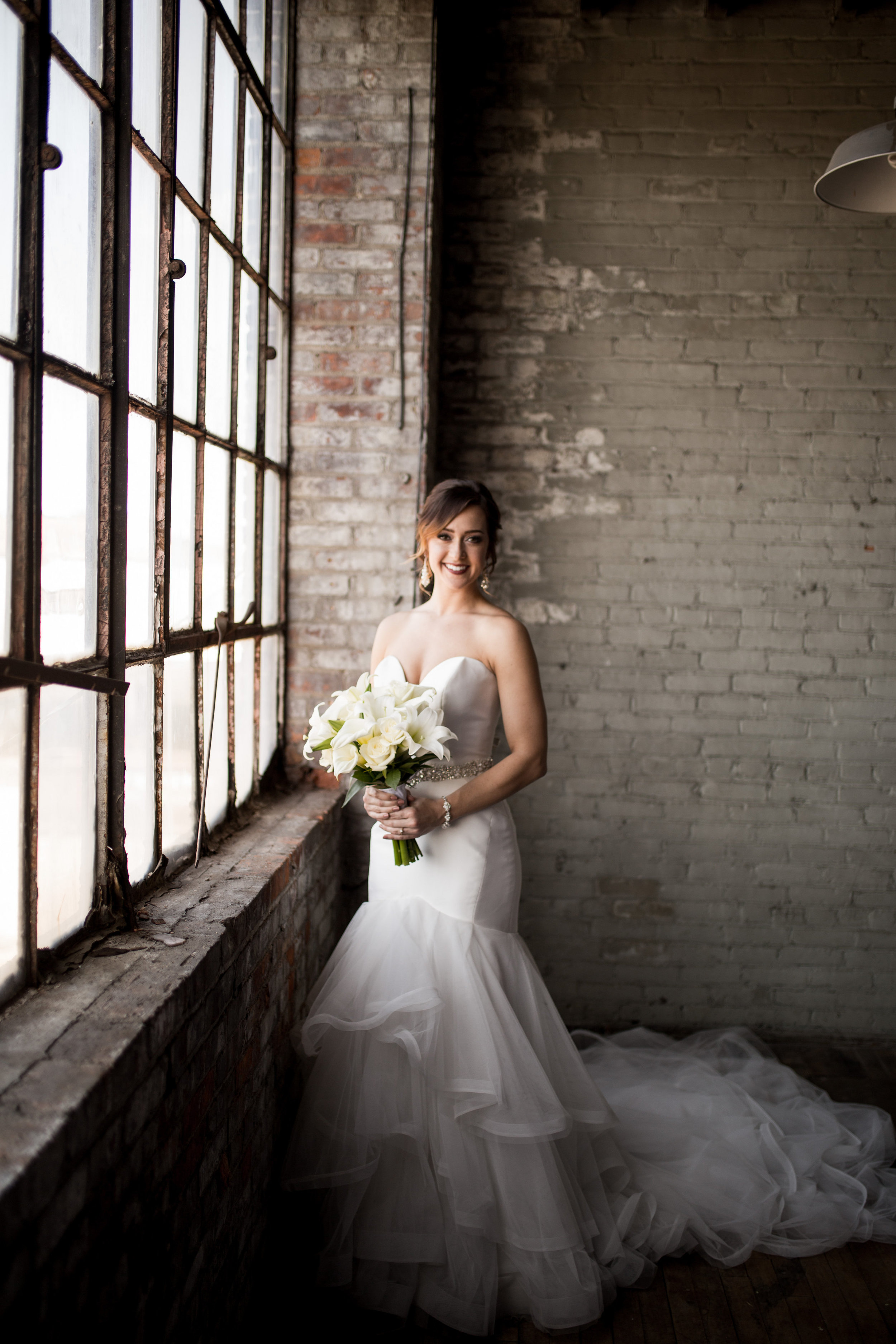 Perhaps it's because I grew up in the steel city, surrounded by endless warehouse giants, or maybe it's because I've spent the last 16 years in the urban wiles of NYC… Whatever it is, I have a special place in my heart for gorgeous loft industrial weddings. There is just something about the cavernous yet wondrously airy blank slates that they offer. When coupled with just the right touch of imagination, these hidden locales can truly sing. Hoping to inject the same sense of industrial wedding wonder, a team of Ohio wedding pros headed to the event space at Rustbelt Coffee with the goal of transforming the event space into one of elegant design. Details like sleek black ghost chairs, custom-made marble calligraphy place cards, & wispy branch centerpieces standing tall against old school loft windows are just a few touches that dial up the elegance. To bring this beauty to life, Ohio wedding photographer Captured by Hannah Photography does an eloquent job of capturing each moment in all sorts of dark, moody, artful goodness. There is much to love here, I suspect you'll enjoy discovering each little hidden treasure! – Jessica Poole of Storyboard Wedding
Vendor Love!
Concept, Design & Styling: Event Prep
Photography: Captured by Hannah Photography
Florals: Ann at Hafner Florist
Bridal Gown & Accessories: Belle Amour
Cake + Desserts: Jane's Cakes & Confections
Makeup Artist: Makeup By Amy Lewis
Hair salon: Beauty Bar Salon & Spa / Stylist: Chelsea
Marble calligraphy place cards: To Live and Write in LA
Invitation Suite: The Love Print
Calligraphy envelope for Invitation Suite: D Calligraphy
Thanks again to the amazing team of wedding professionals in Toledo, Ohio for coming together to collaborate on this industrial wedding styled shoot!