A NFL Kickoff Party with DIY Ideas for Your Favorite Football Team!
Every year when Fall rolls around there's a spirit in the air. We celebrate everything from pumpkin spice lattes to cozy nights around the fire in our favorite sweaters. But there's one classic Fall tradition that is unlike any other and it's the perfect reason to entertain – football! Whether you're a die-hard sports fan or just there for the food & fun, football parties have a little something for everyone – especially when you include DIY details like our recent bash.
We hosted our party at the newly renovated offices of Bullmoose Retirement Planning – a company my father-in-law and husband run together. They did an amazing job designing the look of the space and we were so happy to gather here with friends.
Sundays are made for Jesus…AND football – or so our DIY sign said! By using a Silhouette or or Cricut machine you can personalize festive signs for your football bash and that's exactly what we did in many areas throughout the party. From a faux turf backdrop that said "Get Your Game Face On" with cardstock cutouts that served as our Photo Booth, to custom "Hail Mary" cups for a bloody mary bar, we used our machine to add fun touches throughout our party décor. Floral arrangements with white blooms and lush greenery also included custom "Touchdown" and "1st down" flags and sat atop white and black table runners which resemble referee uniforms.
Any other Friday Night Light #TEAMRIGGINS fans out there? I know this was an NFL party but I couldn't pass up this shirt from ShopRiffRaff.com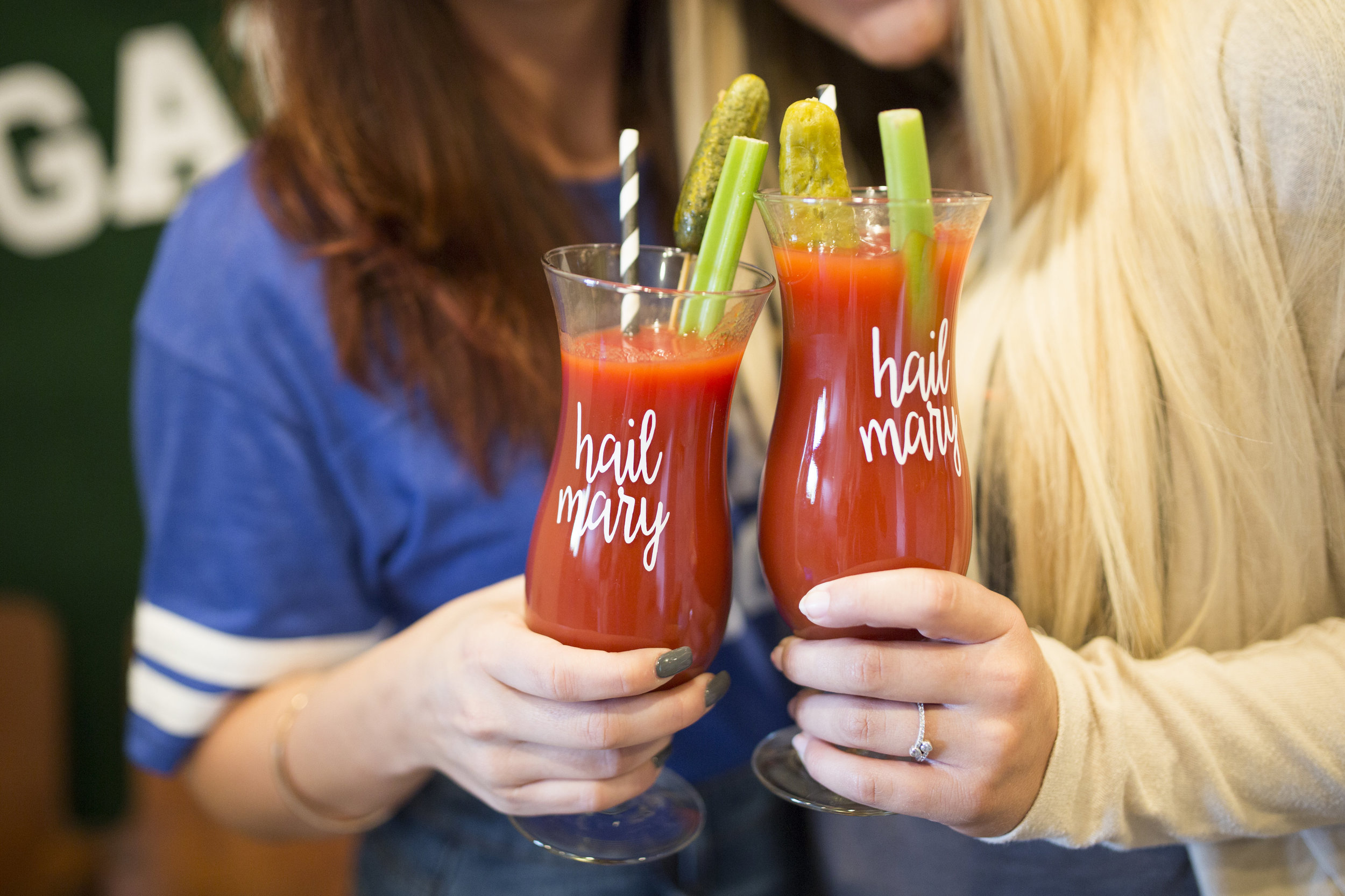 Our goal of the party was to create a cheerful environment so football fans could gather around (three!) TV's to enjoy their favorite teams' first game during the kickoff of NFL season. This was an adults-only party and we created a more sophisticated atmosphere compared to your typical football party by primarily sticking with a black and white color palette with green accents. We also used our families favorite team's colors of blue and grey to add a splash of color throughout the décor like in the DIY yarn backdrop that was displayed behind our Bloody Mary bar cart.
Tailgate classics like chips, wings, beer, and cheesy potatoes were available but a fan favorite was the beer flights we passed around with mini hamburgers on top. Cupcakes were displayed on a stadium "riser" stand with simple football & flag toppers that you can find at most craft stores. Our chips & dip station featured buckets with custom labels on the front along with brown Kraft bags with football logos and the outline of a field – another simple DIY idea that you can recreate by using the sketch option on your Silhouette or Cricut machine . Party favors included popcorn in glass souvenir cups, candy bars, and Gatorade bottles.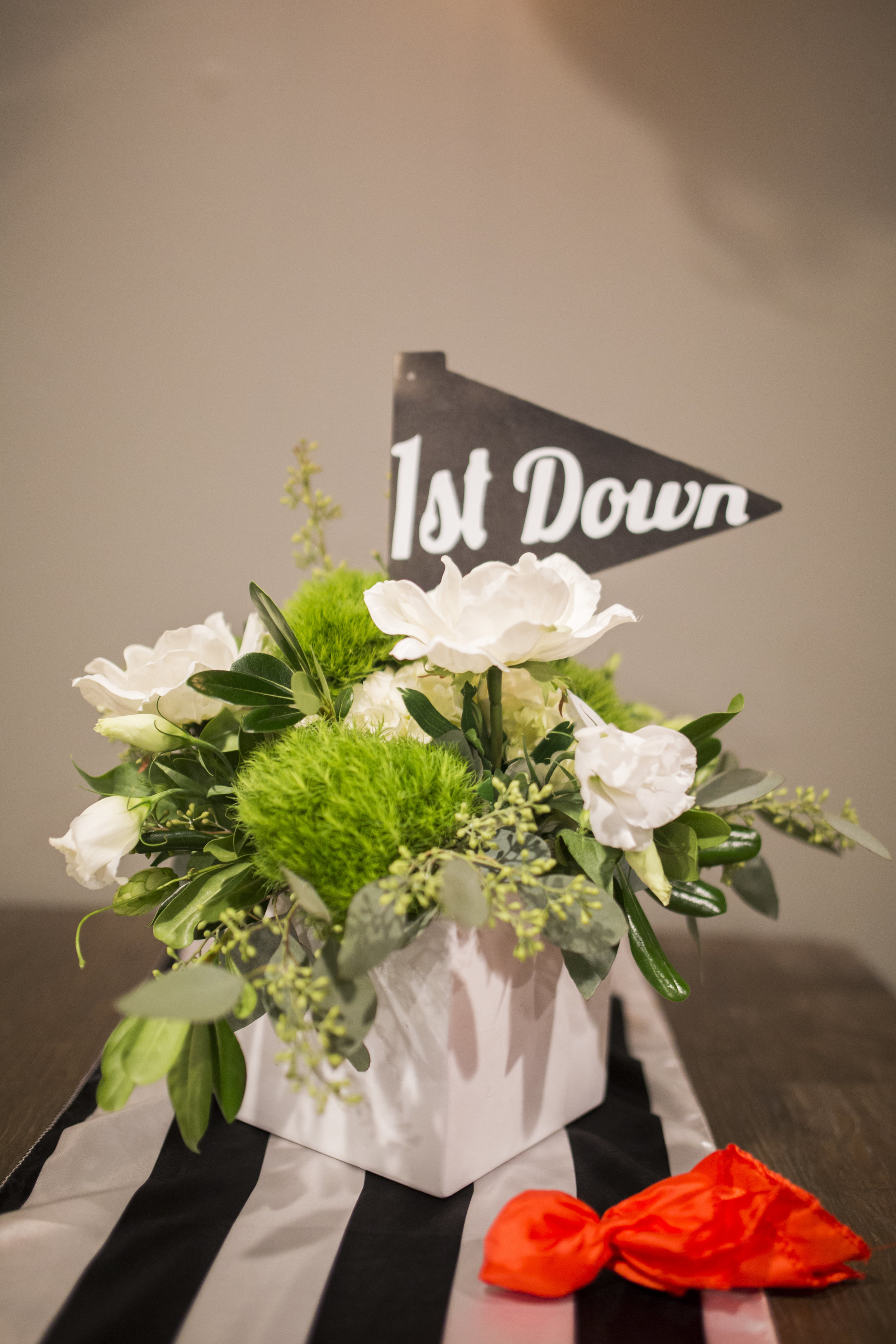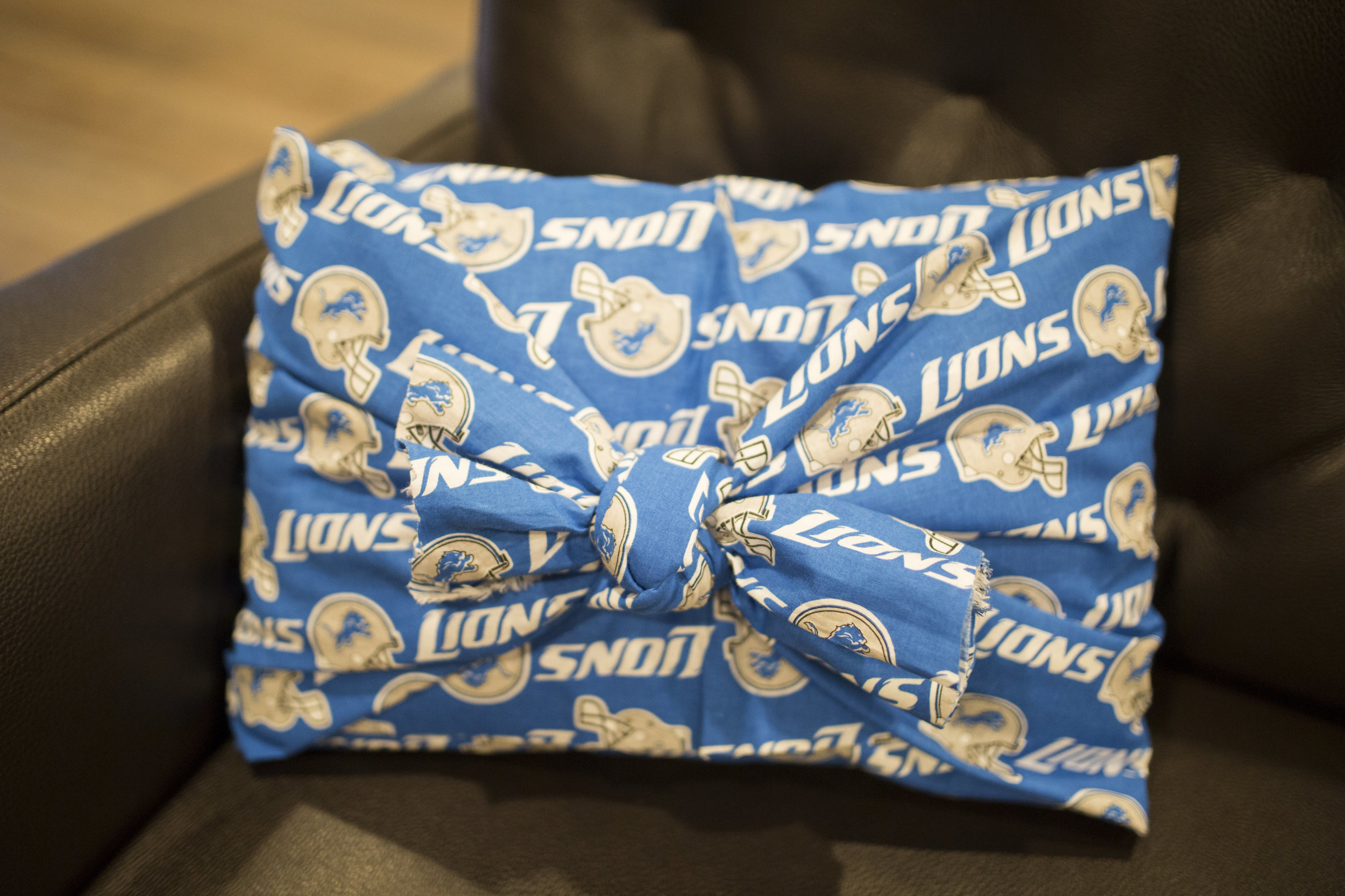 One of my favorite DIY's was a wood coffee table trey that I had glued an assortment of football players' cards on top of. It was so simple to make and a great conversation started for those who love football and could reminisce on some of the past games or players.
No matter who you're favorite team is – I hope you've enjoyed this party and have found a few ideas you can reuse for a football party of your own!
CHEERS!
& a special thank you to a few vendor friends who joined in on the fun..
Photography: Haley Elizabeth Studios
Florals: Hafner Florist
Cookies: The Next Sweet Thing Bakery
Custom cupcake riser stand: Stu's Wood