Feminine Friendsgiving + Wine Tasting Party
As Seen In: Mingle Magazine (holiday edition – 2018) available for sale at Barnes and Noble
Featured online by Inspired By This
If you get as excited for the holiday season as I do then you will love this wine-tasting backyard Friendsgiving party filled with feminine details. Thanksgiving is a time to gather with loved ones and give thanks, and a Friendsgiving party is the perfect excuse to do so on more than one occasion and for a more casual get together with your girlfriends. I was inspired to start planning an intimate party for my friends where we could congregate and celebrate our friendships as well as our favorite season. With the Autumn leaves beginning to change color, I knew a backyard soirée was the way to go.
The foundation of the décor was a color palette which included an assortment of pinks, creams, oranges, and burgundy's. I felt this was the perfect non-traditional mix of colors to set the scene for this Autumn party. One of my favorite features was a custom-built wine tasting display with curated wines from Martha Stewart Wine Co. The contrasting shades of wine against the white board was strikingly beautiful and lent itself perfectly to the party's color palette.
Written By: IBT Girls
"Any party that greets us with a glass of wine gets an A+ in our book! But seriously, how great is this custom display bearing wines of different colored varietals; red, white, rosé! Guests could take their pick as they entered this feminine Friendsgiving and wine tasting in one. After all, what's Friendsgiving without wine? So wine-not combine them in a creative way. And when we say creative, we mean it. The Event Prep designed the backyard dinner beautifully with seasonal florals, a cozy lounge to sit at-complete with a fringe chandelier hanging from a tree-and a decadent dessert bar. It surely was a treat to all who attended, and to all of us who can draw from it inspiration for our own Friendsgivings!"
An array of charcuterie boards were paired with different wine samples from the wine tasting display that sat atop a vintage dresser and was draped with a cozy fall blanket. The wine glasses had custom labels on the front to let guest knows which type of wine they'd be sampling. If a guest was interested in trying a wider selection- we also had wine flights available on wood paddles in the most darling miniature wine glasses. The custom wine glasses were created using a Cricut via Michaels.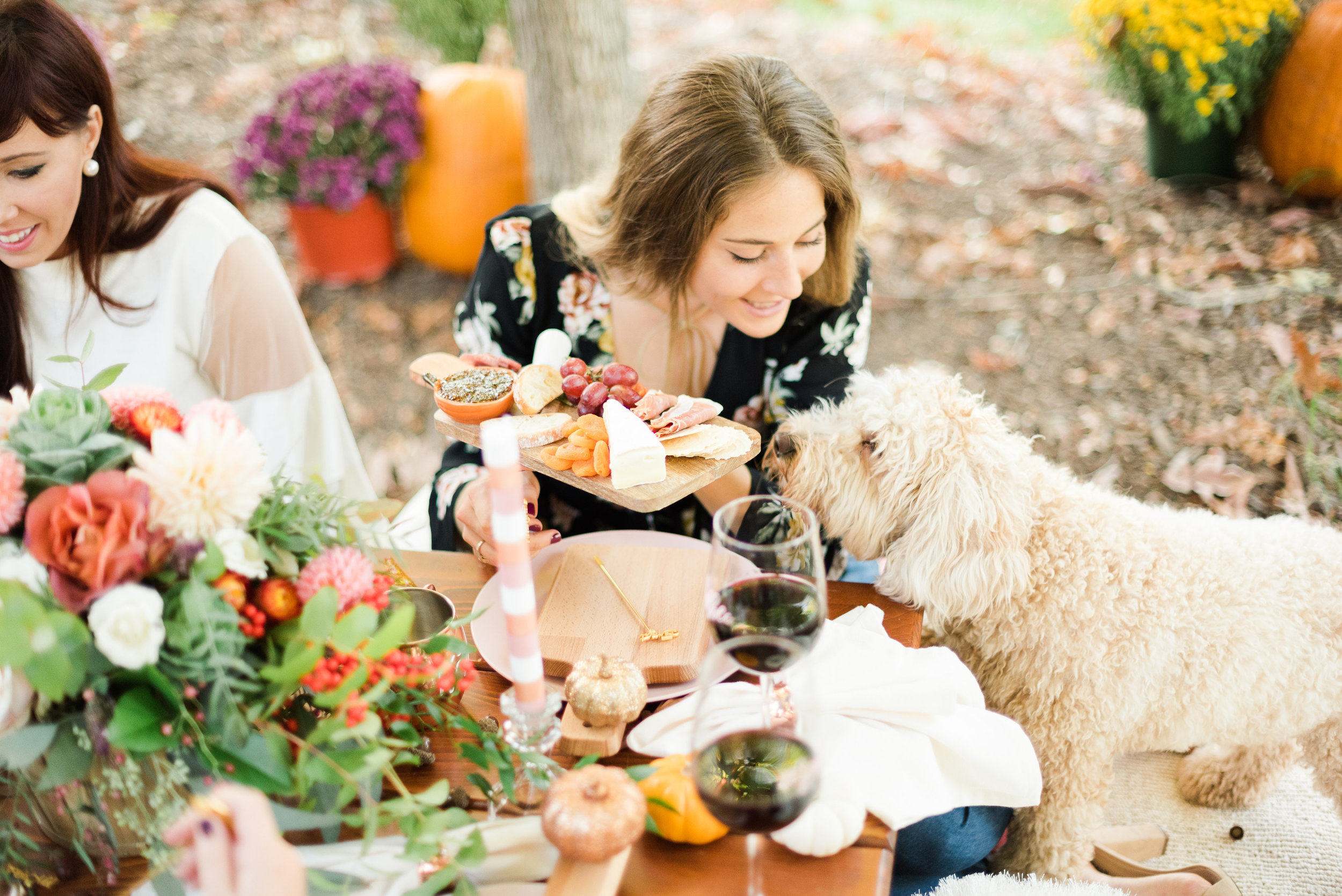 DESIGN, STYLING:THE EVENT PREP