COLOR CODED – Choosing Your Wedding Color Palette
Choosing your wedding color palette can be an exciting, but daunting, task! When Kelly Hahn with the Toledo Wedding Guide invited me to collaborate on an article based around color I was excited to dive in with the design. Many brides in this region opt for traditional combinations like blush & navy pairings or ivory with black and greenery accents. We wanted to showcase some colors that aren't quite used as often but make beautiful options. The images below were captured by one of Toledo's top wedding photographers, Adore Wedding Photography, and the full edition of the magazine is available both in print and online at Toledo Wedding Guide.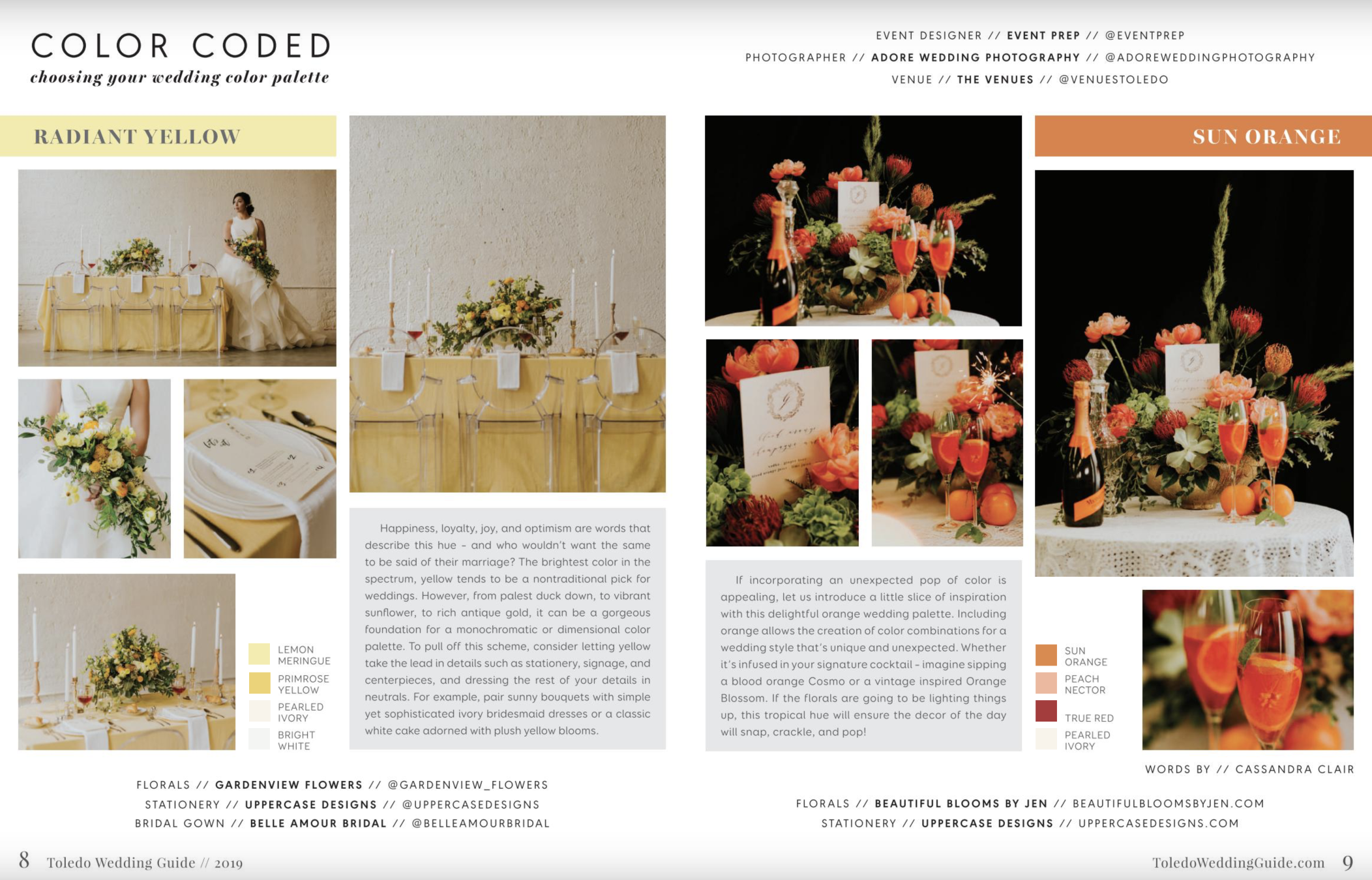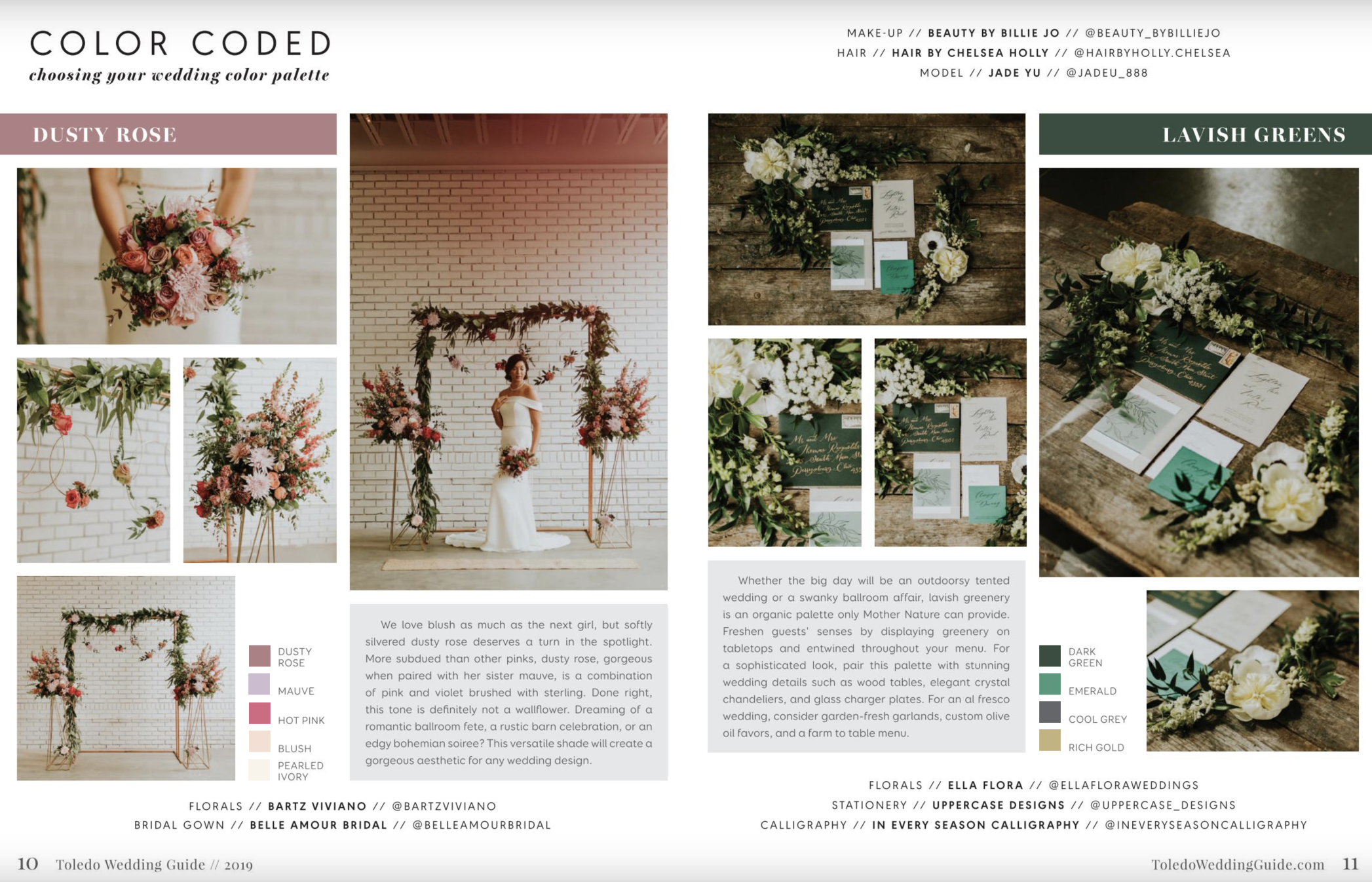 RADIANT YELLOW: Happiness, joy, and optimism are words that describe this hue- and who wouldn't want the same to be said of their marriage? The brightest color in the spectrum, yellow tends to be a nontraditional pick for weddings. However, from palest duck down, to vibrant sunflower, to rich antique gold, it can be a gorgeous foundation for a monochromatic or dimensional color palette. To pull of this scheme, consider letting yellow take the lead in details such as stationery, signage, and centerpieces and dressing the rest of your details in neutrals. For example, pair sunny bouquets with simple yet sophisticated ivory bridesmaid dresses or a classic white cake adorned with plush yellow blooms.
RADIANT YELLOW
Florals: Gardenview Flowers
Stationery: Uppercase Designs
Bridal Gown: Belle Amour
Hair: Chelsea Holly
Makeup Artist: Beauty by Billie Jo
Design & Styling: Event Prep
LAVISH GREENS: Whether the big day will be an outdoorsy tented wedding or a swanky ballroom affair, lavish greenery is an organic palette only Mother Nature can provide. Freshen guests' senses by displaying greenery on tabletops and entwined throughout your menu. For a sophisticated look, pair this palette with stunning wedding details such as wood tables, elegant crystal chandeliers, and glass charger plates. For an al fresco wedding, consider garden-fresh garlands, custom olive oil favors tied with rosemary, and a farm to table menu. Pairing different shades of green, as shown in the stationery, is also a modern way to showcase the hue in places other than your fresh floral arrangements.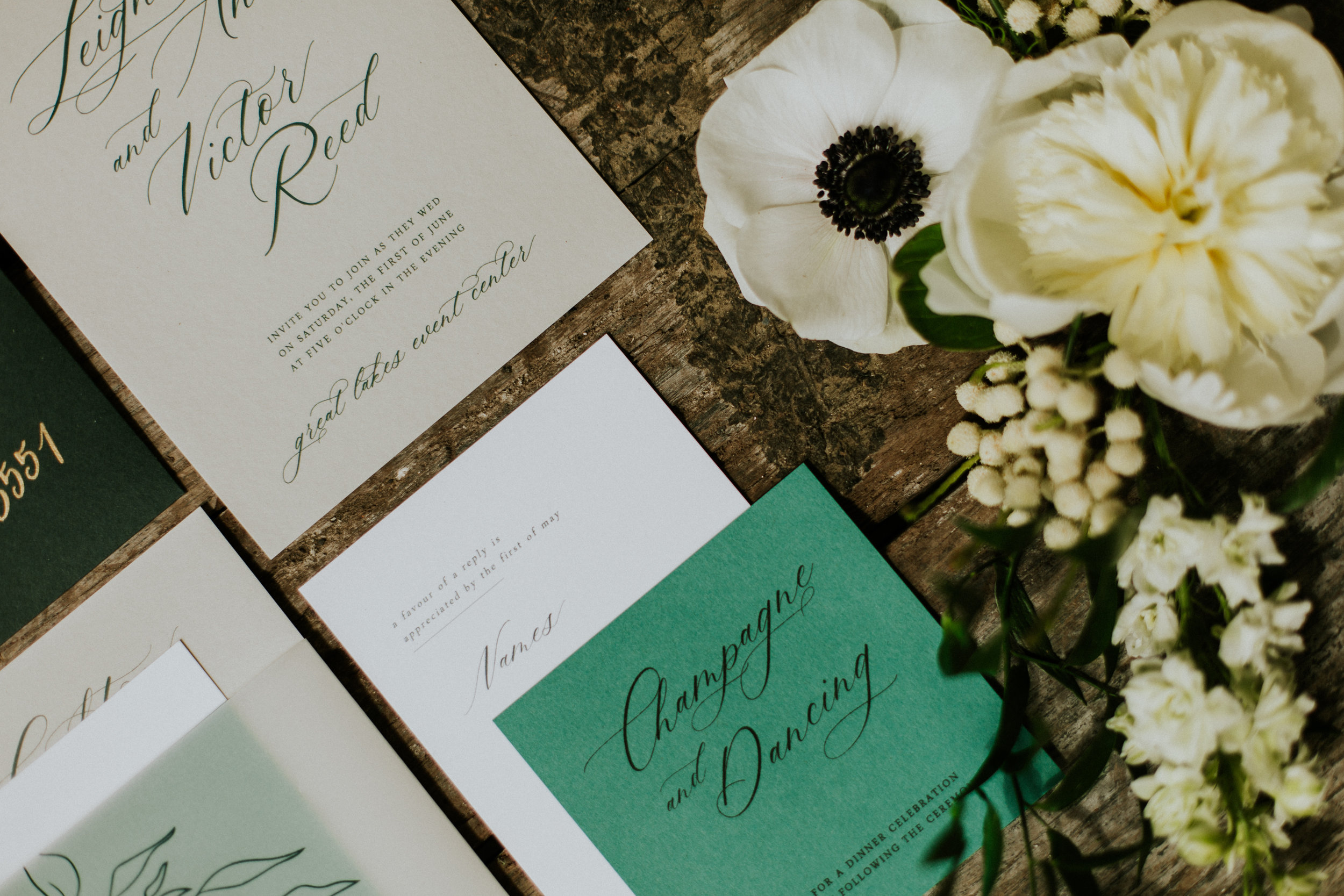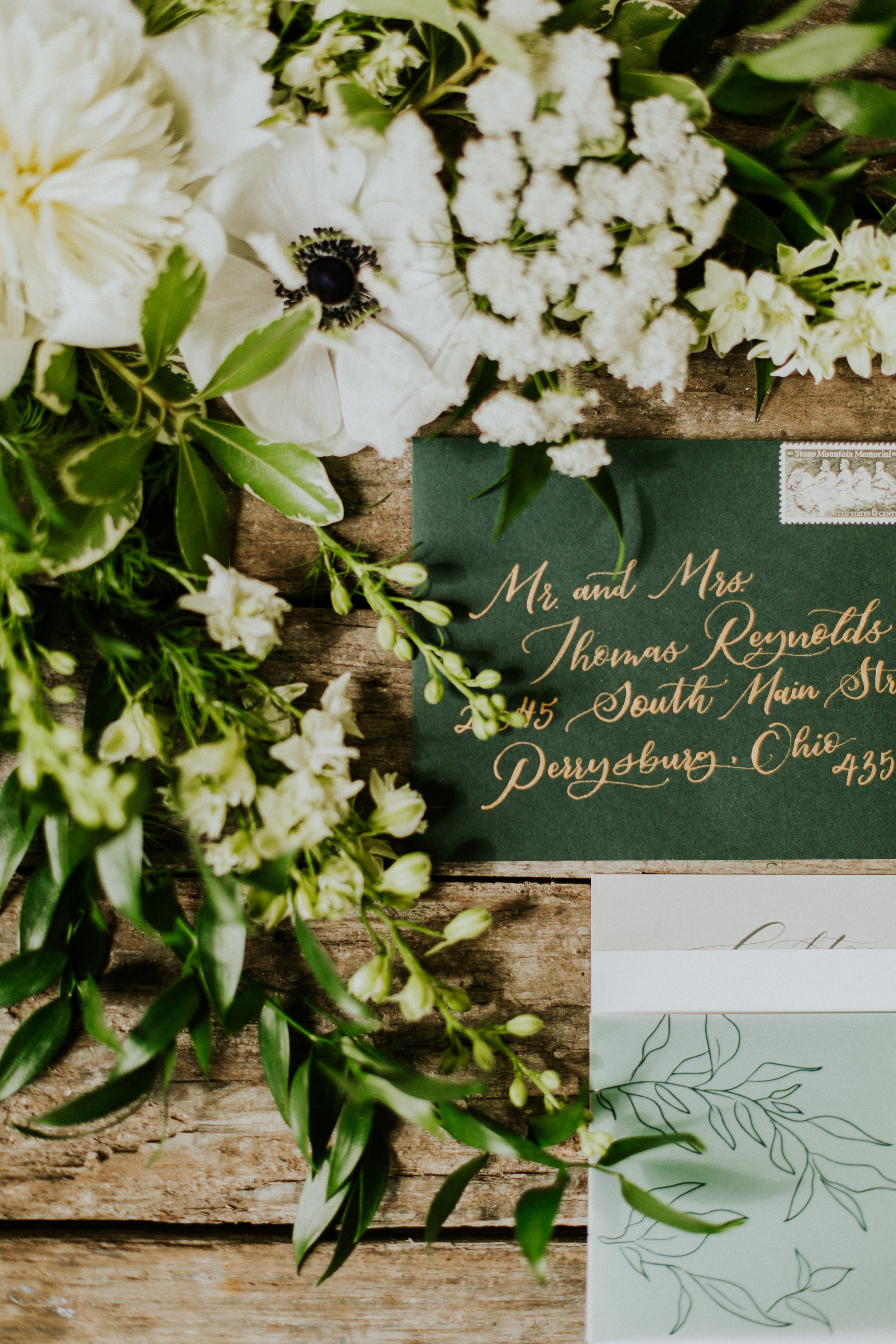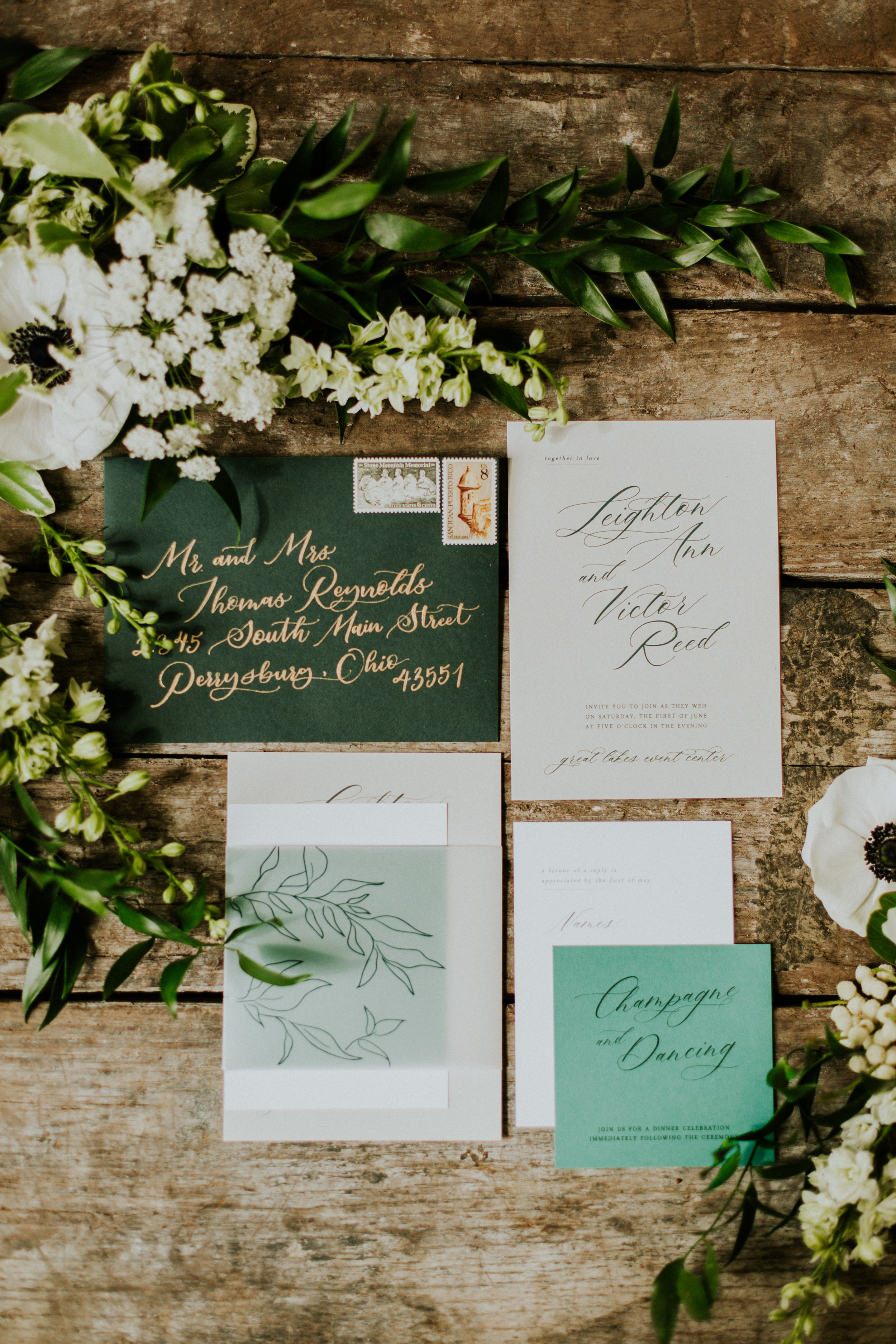 LAVISH GREENS
Florals: Ella Flora
Stationery: Uppercase Designs
Calligraphy: In Every Season Calligraphy
DUSTY ROSE: We love blush as much as the next girl, but softly silvered dusty rose deserves a turn in the spotlight! More subdued than other pinks, dusty rose, gorgeous when paired with her sister mauve (as pictured!) is a combination of pink and violet brushed with sterling. Done right, this tone is definitely not a wallflower. Dreaming of a romantic ballroom fete, a rustic barn celebration, or an edgy bohemian soiree? This versatile shade will create a gorgeous aesthetic for any wedding design.
DUSTY ROSE & MAUVE
Florals: Bartz Viviano
Bridal Gown: Belle Amour
Hair: Chelsea Holly
Makeup Artist: Beauty by Billie Jo
Design & Styling: Event Prep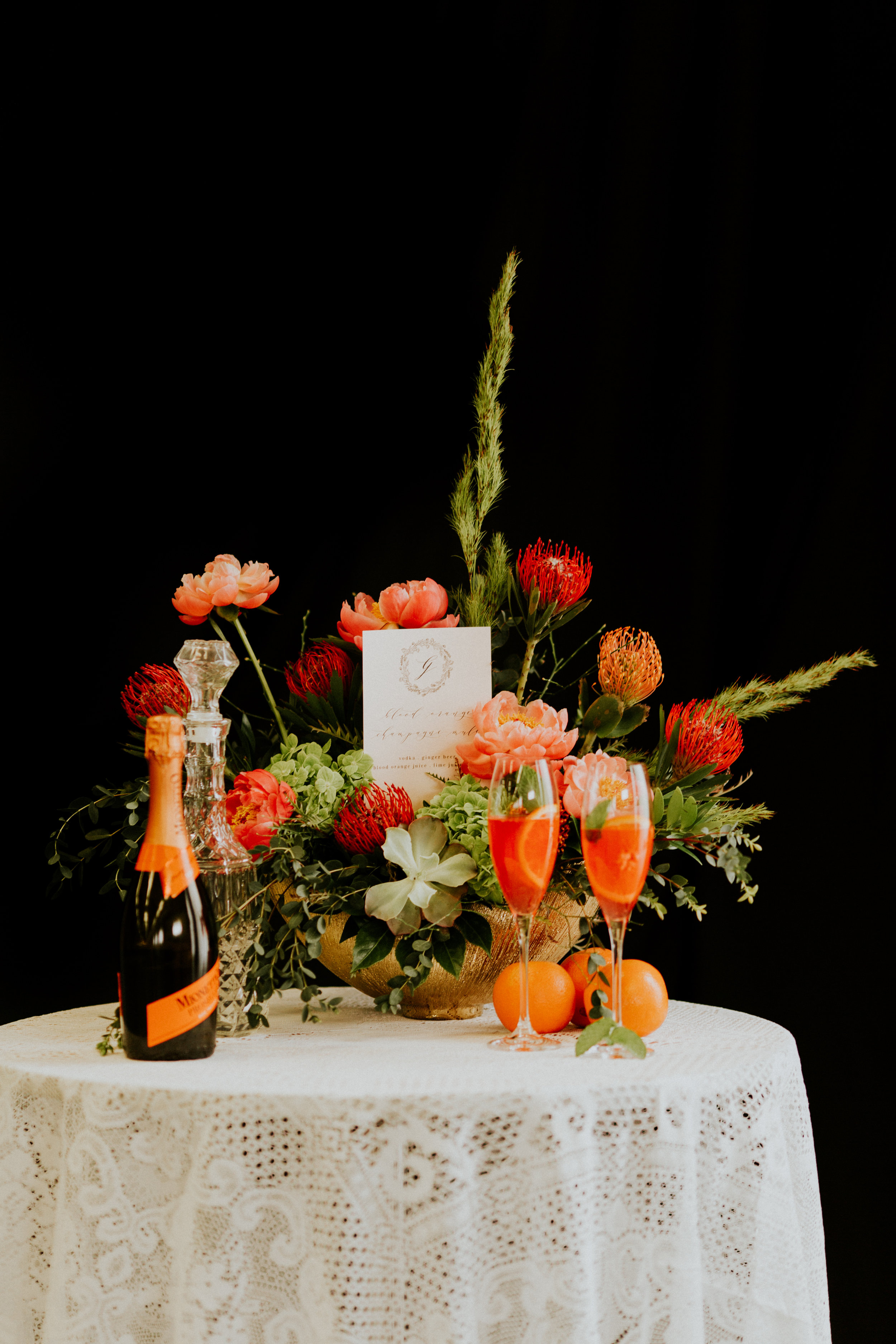 SUN ORANGE: If incorporating an unexpected pop of color is appealing, let us introduce a little slice of inspiration with this delightful orange wedding palette. Including orange allows the creation of color combinations for a wedding style that's unique and unexpected. It can be infused in your signature cocktail- imagine sipping a blood orange Cosmo or a vintage inspired Orange Blossom. Thinking of your centerpieces? If the florals are going to be lighting things up, this tropical hue will ensure the decor of the day will snap, crackle and pop.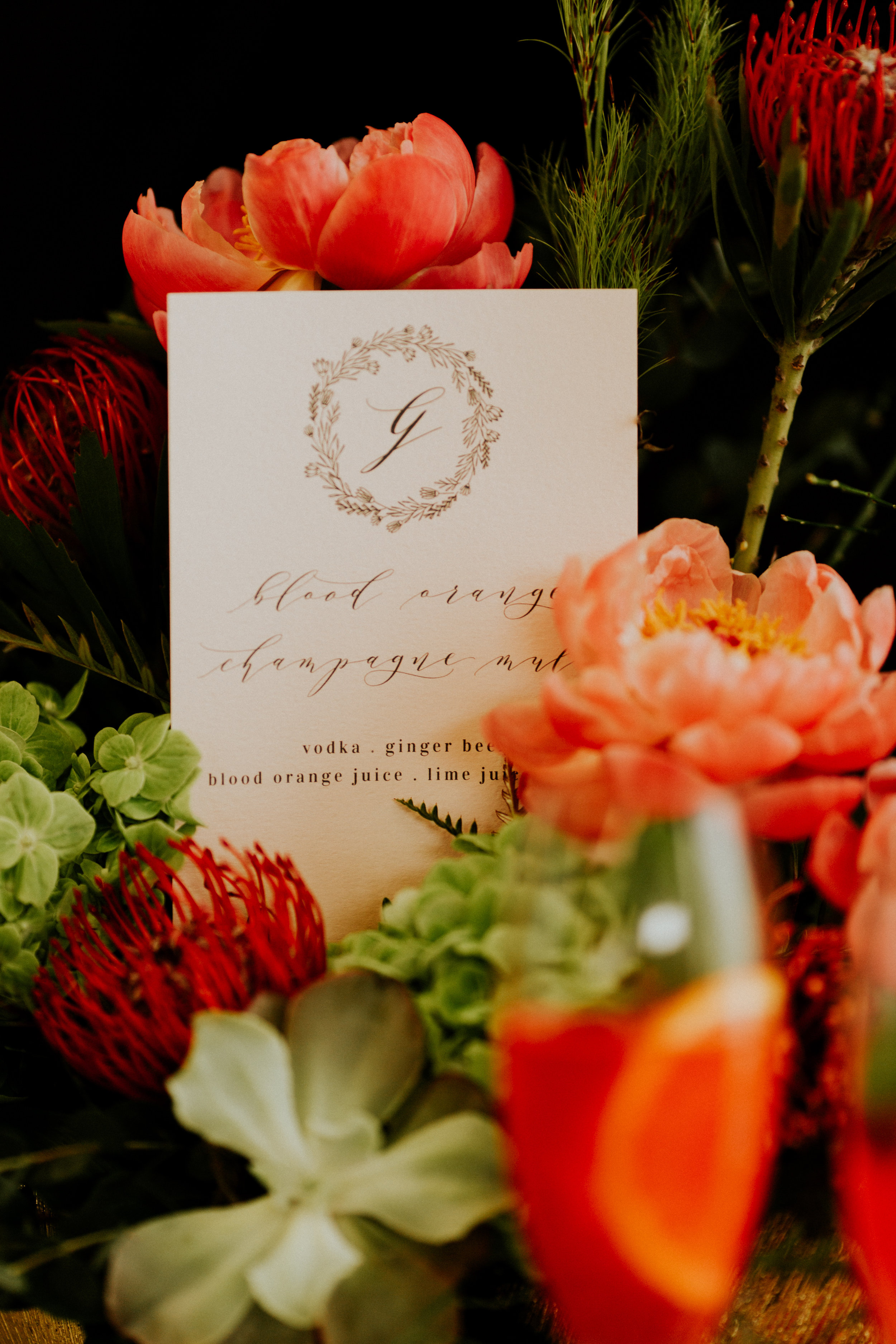 SUN ORANGE
Florals: Beautiful Blooms by Jen
Stationery: Uppercase Designs
This article was a collaboration between some of the best Toledo wedding professionals in the community and it was an honor to be asked by the Toledo Wedding Guide team to be included. Loren & Mary Beth of Adore Wedding Photography are kind, creative, and SO talented so it was a true joy to work with the two of them! If you're in the Detroit or Toledo areas and searing for a wedding photographer, florist, stationery designer, hair or makeup artist, calligrapher, or wedding gown boutique (or event designer + planner ;)) be sure to check out their websites via the links above!
LOCATION: The Venues in downtown Toledo